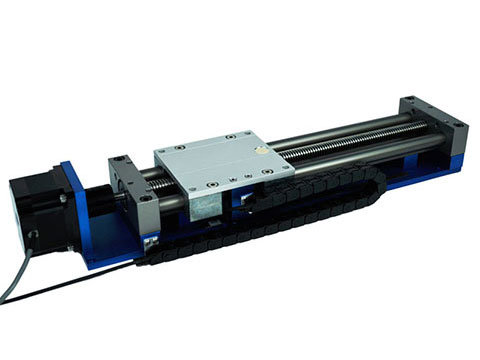 Request A Quote
These stages feature exceptionally long life without the need of adjustment, lubrication or maintenance. The integration of a splined linear guide and leadscrew results in a torsionally stiff stage that can be operated in either a horizontal or vertical axis. These stages are ideal for: Pick-and-place, parts transfer, water jet cutting, laser cutting and laser etching, inspection, testing, packaging, and assembly applications. Designed for loads up to 100 lbs. (45 Kg) and speeds to 30 in/sec. (762 mm/sec) the stages can be specified in compound multi-axis configurations such as an X-Y-Z axis gantry robot. To suit the requirements of an application a variety of stepper motors, DC brush and brushless motors, or AC motors can be mounted to the stage. Options to enhance performance and ease integration into a new or existing application are: Custom drilled and/or tapped holes in the stage and/or carriage, end of travel limit switches which can disable the amplifier, linear encoder, cable carrier, and protective bellows.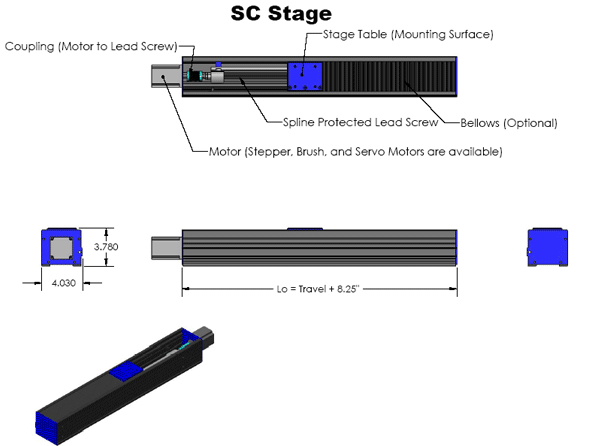 Coming Soon
DUAL FEEDBACK - LINEAR MOTOR DRIVEN POSITIONING STAGE

NOTES
:
-The controller can only close the loop on one feedback device at a time. In this case it can close the loop on the position and monitor the velocity or close the loop on the velocity and monitor the position.
Step 1
. A program or motion profile will be written on a PC or laptop and downloaded to the motion controller. This program will contain parameters such as speed, acceleration, deceleration, PIDs, desired position etc…
Step 2
. Based on the program parameters, the motion controller will send a +/- 10V reference signal to the servo amplifier.
Step 3
. The servo amplifier will take the reference input signal and provide the necessary current to generate the required force from the motor to move to the desired position.
Step 4
. The motor will move to the desired position or achieve the desired velocity at the programmed acceleration.
Step 5a/5b
: Motor position/velocity is sent back to the controller to verify that the desired position/velocity has been reached and maintained.